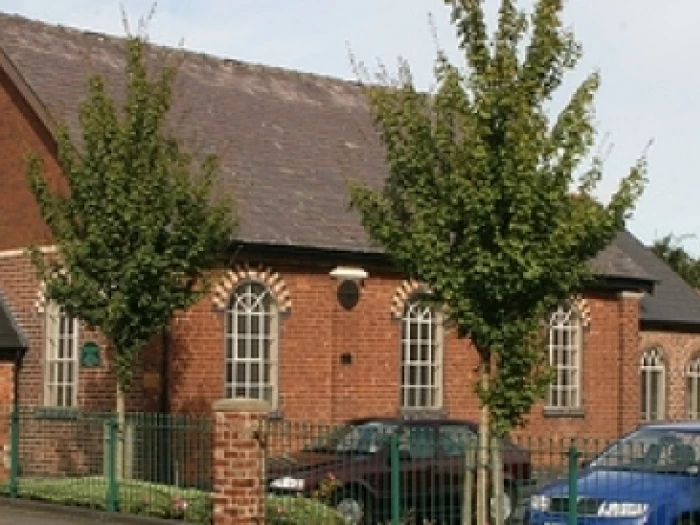 Chase Terrace Methodist Church, formerly known as Mount Calvary Methodist Church, was established in 1870, a Primitive Methodist Church serving its community of mainly miners and their families. Over the years, the Church has seen many changes, presenting both challenges and opportunities, but both of these came together in the early 2000s with a huge Redevelopment Project.
The Church had struggled for some years to adequately maintain its buildings and to meet the growing costs of repairs and refurbishment. The opportunity arose through a Government Regeneration fund for Burntwood. With no funds of our own at all and, in fact, in debts to other Churches in our Circuit, we embarked – in faith – on a huge £120,000 scheme to demolish an old community building and completely refurbish the Church building itself to provide a community room, kitchen, toilets and ensure disabled access throughout. We also planned to transform our grounds to provide car parking and landscaping and show that our Church continued to be a much-loved building and was open for all the community. Supported by the Regeneration Project, which provided funds directly and indirectly through other sources, we committed as a Church family to raise £10,000 – but actually doubled that amount! We opened our new facilities including the Milton Suite (after the much-loved stalwart of the Circuit and local preacher, the late Milton Spraggett) in August 2003.
We hold services every Sunday at 10.30am and host evening services for the Section. We also host a number of church and community meetings including a weekly Tuesday morning Coffee Shop. Many hundereds of local people have since entered our Church and enjoyed our facilities. To book our community spaces, please call 01543 670632.
This is our mission statement:
"We are a small, caring and more traditional fellowship which is welcoming to all, particularly older people, and our aim is, through Christian Service, to continue to provide friendship, support and opportunities to worship for the local community."